Metal Surface Protective Film

Metal as a ideal material has a big range of applications , especial in construction and manufacturing industries, because its strength ,durability and aesthetic appeal.
But the metallic surface can be easily damaged , it can be contaminated by solvents,overspray,dust,especially during the fabrication and finishing processes and marred by chatter marks, scratches or swirls,Those processes include:

· Machining · Brushing · Polishing · Cutting

· Bending · Welding · Painting · Assembly

· Shipping · Handling · StorageIn stallation
If the metal surface is damaged at any step of those processes , it will decrease its value and make you lose. DUTE protective film is committed to bringing you reliable, trouble-free solutions for your metal surface

Metal surface protective film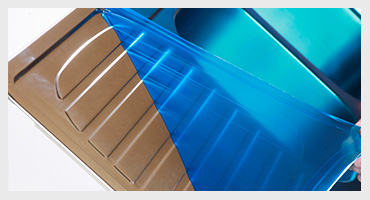 Technical data

Base Material

Virgin Polyethylene

Glue

Water-based Acrylic

Thickness(um)

40-80/ as customer's requirement

Width(mm)

600-1600/ as customer's requirement

Length(m)

200-1000/ as customer's requirement

Color

Transparent,Black/White,Blue ect

Adhesion

Medium,Medium-High

Tensile Strength(n/25mm)

>8(trasv) >15(long)

Elongation(%)

>350(trasv) >250(long)

Heat Resistance

60-70℃ for 48h, no glue residue

Humidity-Proof(+-6%)

60℃ for 48h, no abnormalities
Features:

with stable and controlled adhesiveness throughout the transformation cycles and during storage
with significant outdoor resistance (3 to 6 months)
with no blocking, and easy removal without tearing
adapted to stamping operations
with "easy peel" properties for processes requiring quick and easy removal of protection at the end of the production line,preserving the quality and the impeccable finish of your surfaces without leaving residues, stains or marking once the film is removed.
Our protective films can cover almost any type of metal include Aluminum (Anodized Matte/Satin, Mill Finish, Polished), Stainless, Painted metal, Pre-coated Metals. We can deliver it to you in the size and shape that will best suit your needs, your logo or brand mark, or an advertising or technical message can be printed on the film.