Extrusion Profiles Protective Film

Extrusion profiles normally made by PVC and Aluminum materials which are widely used in building industry. The manufactory will use the protective film to keep the profiles surface from scratch, mar during the production and transport. They also use the print protective film to show their information such as their brand , technical date.
The film composition and adhesive characteristics are two important factors when you selection right film for profiles. The customers usually have their special requirements. The color of profiles film normally will be white/black or white, our rubber adhesives perform very well for these applications when combined with UV absorbing, and the high adhesion systems help to prevent film lifting during profile cutting, processing and welding.
Profile Protective Film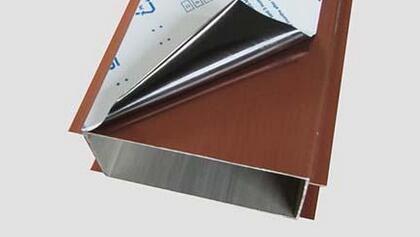 Technical data

Base Material

Virgin Polyethylene

Glue

Water-Based Acrylic

Thickness(um)

40-80/ as customer's requirement

Width(mm)

50-1000/ as customer's requirement

Length(m)

100-1000/ as customer's requirement

Color

White,White/Black ect

Adhesion

Medium,Medium-High

Tensile Strength(n/25mm)

>8(trasv) >15(long)

Elongation(%)

>350(trasv) >250(long)

Heat Resistance

60-70℃ for 48h, no glue residue

Humidity-Proof(+-6%)

60℃ for 48h, no abnormalities
DUTE protective film offers a comprehensive range of films for the protection of PVC and Aluminum profiles
Features:
With stable and controlled adhesion throughout the transformation process and during storage;
With a significant guarantee of outdoor life (6 months);
with superior abrasion resistance of printed film
With easy removal without tearing;
to preserve the quality and impeccable finish of your surfaces without leaving residues, stains or marking once the film is removed.
We supply films come in the same widths as your profiles, also can supply on extra wide rolls and you can cut in your own workshops to meet immediate needs.