Stainless Steel Protective Film
Products Name
Stainless Steel Sheets Protective Film
Base
PE
Type of Adhesive
Water based glue / Co-Extrusive self adhesion
Color
White,Clear/Transparent,Black&White ,Blue etc.
Thickness(Micorn/μ)
Widely use: 50mic,60mic,70mic ,80mic,90mic etc
Width
Widely use:1000mm,1100mm,1220mm,1250 etc
Length
Widely use:1000m etc
Printability
Up to 3 colors
Tensile Strength
Longitudinally>8N/25mm Horizontal>15N/25mm
Elongation
Longitudinally>300% Horizontal>180%
UV Resistance
Available
Application
Protective film for stainless steel panel.
BA,2B,2D,RO,BB,4K,6K,8K,10K,12K mirror and hair line NO.1,NO.2,NO4,NO.6 surface etc.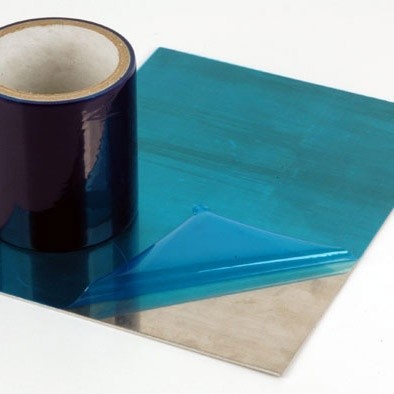 Perfect products need good protection!
DUTE protective film prevent damage to surfaces, saving expensive reworking and unnecessary production losses.
DUTE protective films not only protect the surfaces of your valuable products during handing, mechanical, transport, assembly, stroage process but also can improve your brand image by printing your logo on its surface. We offer films in various quality, color, printability, thickness,length,width and adhesive.
• Surfaces to be protected should be dry, free from dust, oil, solvents or other chemicals. • The best results are obtained with temperature of surface and surroundings at +15°C to 40°C. • Use laminating machines with rubber coated press rollers. • Try to eliminate or minimise film elongation, and the formation of air bubbles and folds during lamination. • Removing the film is advisable to perform in the temperature range 5°C to 40°C (Not below 5°C). • The film is not suitable for extreme thermoforming.